Loss prevention is a critical concern for any business, but it can be especially challenging for quick-service restaurants (QSRs). This is due to a number of factors, including civil unrest, staffing shortages, and employee scams involving loyalty card numbers. At ITech Digital, we've seen what damage employee scams can cause and want to help you protect your store as much as possible. Fortunately, there are a number of steps businesses can take to mitigate these risks and prevent loss. By following these tips, you can help protect your QSR from loss and ensure its success in the future.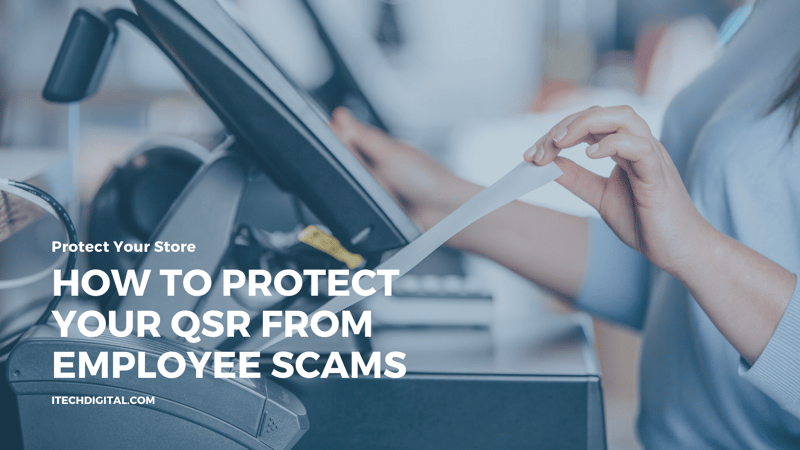 With the rise of quick-service restaurants (QSRs) in recent years, comes an increase in loss prevention concerns. In order to combat these issues, QSRs are urged to increase security measures, including implementing more theft prevention techniques and increasing the frequency of employee training on loss prevention policies.
There are a few steps you can take to protect yourself from employee scams:
Train your employees on how to safely handle money and loyalty card numbers. Teach them how to spot scams and to be aware of their surroundings.
Implement measures to restrict access to the kitchen and storage areas. This will help prevent employees from stealing food or equipment.
Keep your finger on the pulse of inventory levels regularly. This will help reduce the risk of theft or loss due to spoilage.
Regularly review POS exception reports and compare them to the security footage from your surveillance system. This will help you detect any discrepancies and take corrective action.
Perform investigations and "secret shopper" type approaches to see whether employees accurately follow procedures, ring up items properly, and don't participate in things like loyalty fraud.
Another way to increase security is with a surveillance camera system. Security cameras are becoming increasingly popular in quick-service restaurants as a way to prevent shrink. By integrating security cameras with POS systems, restaurant owners can track transactions in real-time and identify any suspicious activity. ITech Digital is currently offering a limited-time deal on a 20-camera 3xLOGIC security system, which includes 2 FREE cameras. This system offers great value for restaurant owners looking to improve the security of their businesses.
ITech Digital has the experience and expertise to help QSR businesses secure their properties against employee fraud. We can provide customized security solutions that are tailored to your specific needs. We are headquartered in Indianapolis and serve all 48 contingent states with access control, video cameras, video analytics, and more. Call us at (317) 567-6160 or
today to learn more about our services and how we can help you protect your business.
ITech Digital
ITech Digital provides integrated security solutions such as video surveillance, access control, intrusion, fire, and business intelligence data and analytics. Our cutting edge technology combined with over 100 years of industry experience helps us to create and maintain results-driven integrated solutions for businesses such as restaurants, retail locations, hotels and hospitality, K-12 schools and universities, warehouses, and commercial buildings.
Loss Prevention