[grid class='gutter']
[col-1-6]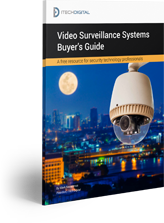 [/col]
[col-5-6]
Make smart decisions about your organization's video security systems.
When considering new video surveillance systems and cameras, it can seem like there are more questions than answers about the best way to keep your business secure. Are IP cameras really better than analog? Should I integrate cameras with my access control or point of sale system? How many and what kind of cameras should I buy?
Whether you're relatively new to the field or you're an experienced security professional, it can be a challenge to keep up with the technology and terminology. That's where this guide can help.
In our guide you'll learn helpful tips and comparisons, such as:
Whether IP or analog cameras produce better video quality
What factors are important to NVR storage size
The right number of cameras to cover your TRA with the right video quality
How to measure video quality using PPF, TRA, and FPS
[/col]