[grid class='gutter']
[col-3-4]
Bosch Access Professional Edition 3.0
Software for access control and security management utilizing the innovative Access Modular Controller family
Cardholder administration of up to 10,000 records in the database
Graphical location map with device control via both maps and device tree
Alarm management with details via alarm list and animated GIFs on interactive location maps
Video verification, video alarm verification and video monitoring of live and recorded events
Online swipe and attendance overview
[/col]
[col-1-4]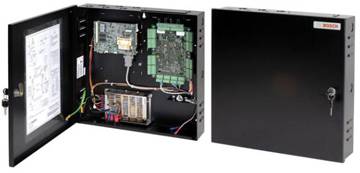 [/col]
[col-1-1]
---
[/col]
[col-3-4]
Bosch Access Easy Controller 2.1
4 readers expandable to 32 readers
Supports up to 20,480 card holders and 100,000 transactions
Classify cardholders based on 254 access groups
255 time schedules, 32 regular and 32 special holidays
Anti-passback (APB) capabilities
8 alarm zones and attendance capture
Intrusion monitoring up to 64 input and control points
E-mail or SMS alert for critical events
CCTV integration, live view, archive retrieval, event verification and in window PTZ
Support for multiple languages
[/col]
[col-1-1]
---
[/col]
[col-3-4]
INFINIAS Access Control Hardware
Infinias access control hardware is designed to support your specific door access control needs, from securing schools to healthcare facilities and municipalities. Our access control hardware includes everything from ethernet-enabled, edge-based, PoE-enabled IP door controllers, and ready-to-install door kits — to fully-configured 300 door servers and I/O panels. All hardware is built to handle the rigorous demands of 24/7 building security.
[/col]
[col-1-4]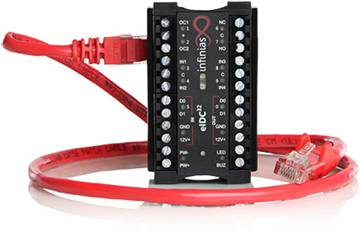 [/col]
[col-1-1]
---
[/col]
[col-3-4]
eIDC32 Door Controller
The compact yet powerful edge-based single door controller installs inside a double gang box, mounts at the door and connects to the closest network switch with a single CAT 5/6 cable. The PoE-powered eIDC32 uses existing network infrastructure for delivery of both data and power for the controller and peripheral door hardware.
[/col]
[/grid]