Last month, we told you about the Maxxess Access Control solution — the dynamic, adaptive tool for single- or multi-facility organizations. When it is integrated with ambit, the Emergency Mobile Communication application, it provides a total mobile access control solution for any market segment.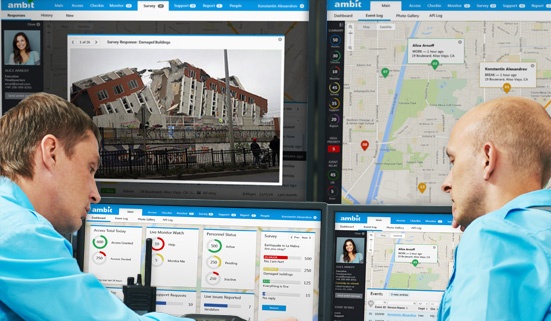 ambit uses the power and versatility of smart mobile devices to connect an organization to its employees, both inside and away from the workplace. It's cloud-based, two-way messaging service can be used in many ways that add valuable, cost-effective, and time-saving benefits for not only security and risk-management teams, but across every level of the enterprise.
Integrating traditional security with proactive strategies
Customers have been asking the security industry to integrate traditional defensive solutions with those that are more proactive. The ambit application leverages security and data assets that you already have, giving you a business intelligence advantage that connects your workforce. The right information is available to the right people, at the right time. This creates a resilient security environment — and that is powerful!
Market segments where the ambit solution is vital
Most business organizations could benefit from ambit messaging technology, but there are some areas where the application is vital.
In the education environment, ambit gives teachers the individual information they need in emergency situations. Every child can be monitored in buildings, on the grounds, or on-board transportation. University campuses are safer and more secure when students have quick access to security personnel, especially at night.

In hospitals, finding personnel and patients as they move from area to area in vast medical complexes can be time-consuming, and in certain emergencies, cost lives. The ambit application monitors the movement of staff and patients an dcan locate them immediately in crisis locations. ambit technology used in nursing homes allows elderly Alzheimer patients who may wander, a little more freedom and dignity in their day-to-day life.

Organizations with multiple campuses, warehouse complexes and businesses with large outdoor lots can be monitored remotely, adding an extra layer of security and extra cost savings for better return on investment.
Is ambit technology your security solution? Here are some ways that ambit makes a difference:
Selectively broadcast emergency notifications by pinpointing specific groups or locations that pertain to the emergency
View all potential threats on one platform
Access and communicate with your mobile workforce
Monitor security on buses
Get complete incident reporting − incident identification and response times, who initiated alarms
ITech Digital has more information on ambit technology and the Maxxess Access Control solution. Call 866-733-6673 for a free evaluation of your security environment.
Mark Nazarenus
Mark Nazarenus is the President of ITech Digital. Mark is an experienced security professional that partners with organizations across the nation to design custom security solutions for industries like retail, restaurants, warehouse and commercial buildings, K-12 schools and colleges.
Operations Efficiency